Reports in Israeli and Arab media say research centre near Hama attacked in night-time raid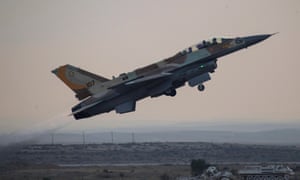 Israeli jets have reportedly bombed a Syrian government facility near Hama associated with the Assad regime's chemical weapons programme, according to early reports in Arab and Israeli media.
The claims, which could not immediately be confirmed, were reported prominently in most Hebrew media sources on Thursday morning.
The air raid was reported to have taken place overnight on the Syrian Scientific Studies and Research Centre near Hama which has been linked by western intelligence reports to Syria's chemical weapons programme.
Syrian opposition figures said four Israeli warplanes were involved in the strike.
Israel rarely confirms the strikes it conducts inside Syria – and there was no immediate comment from the Israeli military – but Israel has launched numerous strikes during the Syrian war, usually against arms convoys and weapons storage sites associated with Hezbollah, a key ally of Assad.
Israeli armed forces took part in the largest military drill in 20 years even as reports emerged that a Syrian chemical weapons facility had been attacked.
In August, however, an Israeli former air force chief Amir Eshel suggested Israel had conducted dozens of airstrikes on weapons convoys destined for the Hezbollah over the past five years.
The reported air raid comes as Israel is conducting its biggest military exercise in 19 years on its northern border, involving tens of thousands of soldiers, which has been widely described as a dress rehearsal for a future war with Hezbollah including civilian evacuation drills.
Even before the outbreak of the war in Syria, the bombed centre was on Israel's radar. The director of the Israeli National Security Council's Counter-Terrorism Bureau in 2010 called for the destruction of the centre, alleging it had provided weapons to Hezbollah and Hamas.
Israel's 10-day military exercise, which got underway on Tuesday, was described as an exercise in rapid military escalation, requiring forces to defend Israel against multiple terrorist infiltrations in the north, a drill Israeli officers have admitted was being closely observed by Hezbollah.
The strike – if confirmed – follows increasingly bellicose noises from senior Israeli government officials, including Prime Minister Benjamin Netanyahu, over the trajectory of the war in Syria where President Bashar Assad has made advances backed by Iran, Hezbollah and Russia.
Last week Netanyahu accused Iran of building sites to produce precision-guided missiles in Syria and Lebanon.